Riverside Domestic Violence Attorney
Are you facing charges of domestic abuse or violence in Riverside, CA? These allegations can take a toll on your entire life, from your reputation in the community to your standing at work. Many law-abiding individuals find themselves facing charges of domestic violence and experience the effect it can take firsthand. While the law states that you're innocent until proven guilty, it doesn't always feel this way when you're the one facing legal consequences.
If you're dealing with charges of domestic abuse, it is in your best interest to have a Riverside domestic violence lawyer by your side to help you through the process and fight to keep your freedom and rights. Contact the Law Offices of Graham D. Donath, APC in Riverside to schedule a strategic review of your legal options.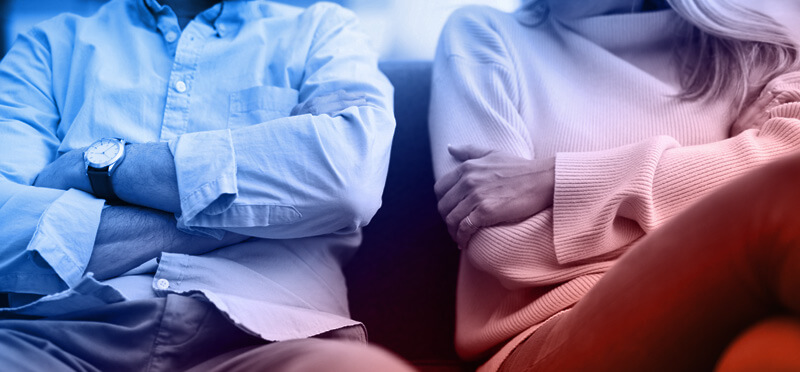 Common Case Questions:
How Much Does a Domestic Violence Lawyer Cost?
When considering hiring a lawyer for a domestic dispute, cost can be an important consideration. After all, while pursuing your safety is important, finances may make some attorneys fall out of reach of your budget. However, there is often a variety of rates for domestic violence defense lawyers, as the specific details of your case will influence the time and resources necessary. When determining the potential cost of your case, you will likely encounter two main costs: legal fees and trial costs.
Legal Fees
While many other types of cases may involve flat-rate legal fees, this practice is uncommon amongst domestic abuse and violence attorneys. The client's needs and case type can affect the level of legal involvement necessary, making flat-rates impractical in these circumstances. Instead, your attorney will likely give you a price after hearing the details of your case during your initial consultation.
You can expect the stage of the case and its complexity to come into play. Pricing domestic abuse and violence cases can become a very subjective process, so it's likely your attorney will give you an hourly rate to determine the final cost of the case from. Some other factors that can influence the hourly rate of an attorney are:
The attorney's reputation and experience
Whether you're working with a solo practice lawyer or a member of a firm
Your geographic location
One benefit you have as a client is that most attorneys will offer a free consultation to evaluate your case. During this time, you will likely discuss your estimated legal fees. Consultations are also no obligation, meaning that you can go to another attorney if the one you first talk to isn't financially feasible for you to hire.
Trial Costs
Sometimes, an attorney can help you resolve a domestic abuse and violence issue in some form of settlement negotiations. However, this isn't always possible. If your case does end up going to court, you will be looking at additional fees.
Besides the extra time playing into your hourly legal fees, a trial requires discovery, preparation, and hearing time. Often, domestic violence cases can see an increase in cost of $5,000 on average if they head to trial. The amount will, much like your initial legal fees, depend on the circumstances of your case.
Although you cannot always tell if going to trial will be necessary from the beginning of the case, you will not have to head into the situation financially blind. A good domestic assault attorney will work out additional payment arrangements with you prior to heading to the courtroom.
Other Cost Factors
Unlike other charges, domestic violence cases do not happen in a vacuum. Often, they are part of another crime, such as battery, or tied to other family law issues, like divorce and child custody. In some cases, a domestic abuse or violence case may involve several other connected factors, which can influence the complexity of your case – and the resulting cost.
You may also see additional costs related to:
The opposing attorney
The judge
Scheduling issues
Where you file the case
At the Riverside Law Offices of Graham D. Donath, AP, we work with you to provide fair and upfront assessments of your potential costs. Our lawyers want to help you achieve peace of mind, not worry about your legal expenses.
At your initial consultation, we'll discuss with you the cost of our services based on the unique circumstances of your case. If your case requires heading to the courtroom, we'll talk over your options with you. And, if at anytime you have questions about your case or fees, we'll always be there to answer.
No matter the circumstances of your case, you can count on your Riverside domestic violence attorneys. Reach out for a free consultation today.
California Domestic Violence Laws
There are several laws that inform domestic violence charges in the state of California. Some of the most relevant include:
Penal Code 243(E): "Domestic Battery" or "Spousal Battery"
This section of California law describes domestic battery, which is one of the state's most common domestic violence crimes. Under California law, domestic battery occurs when one person commits unlawful and willful touching of another person that is offensive or harmful. Domestic battery applies when these acts are against:
A spouse or ex-spouse
A "cohabitant" or someone you lived with (or used to live with)
A fiancé or ex-fiancé
The mother or father of your child
Any person with whom you do or used to have a dating relationship
A domestic battery may also be referred to as "spousal battery" because of the nature of the relationship involved. You may face a charge of domestic violence even if your partner did not experience any injury – the law only requires the use of force or violence.
The following are examples of actions that might give rise to domestic battery charges:
Pushing a spouse or partner during a fight
Pulling his or her hair
Grabbing a partner by the shirt
Domestic battery charges are generally misdemeanors under California law.
California Penal Code 273.5: Corporal Injury To Spouse
The second law that informs domestic violence is called "Corporal Injury on Spouse or Cohabitant." This is a crime that involves the willful infliction of injury or harm that causes a visible, traumatic condition in an intimate partner (listed above). Examples of corporal injury in a spouse or cohabitant include:
Squeezing a partner's arm hard enough to leave bruises
Punching, kicking or biting
Pushing someone into a glass cabinet that shatters
This crime may also be referred to as spousal abuse or domestic abuse. It's a "wobbler" under California law, which means it may be a misdemeanor or a felony. The classification depends on the unique circumstances of the case and the defendant's legal history.
Legal Consequences of Domestic Violence Convictions in Riverside, CA
The legal consequences of a domestic violence charge will depend on the nature of the charge and whether it's a misdemeanor or felony. Both domestic abuse and domestic battery may be misdemeanors under California law.
The punishment for a domestic battery includes a fine up to $2,000 and a sentence in county jail up to one year.
Domestic abuse works a little differently. If charged as a misdemeanor, it carries a potential penalty of up to $6,000 in fines and up to a year in county jail.
If charged as a felony, the penalties become more severe. These convictions carry a maximum sentence of two to four years in a California state prison.
This is why you need to speak with a Riverside domestic violence lawyer to prepare your defense.
The Three Strikes Law
In accordance with the Violent Crime Control and Law Enforcement Act of 1994, a convicted felon will face a mandatory life imprisonment sentence if they have a serious violent felony conviction, as well as two or more convictions in state or federal courts (at least one of these must be a serious drug offense or violent crime offense). This concept is referred to as the "three strikes law."
Penal Code 422: Criminal Threats
In some cases, prosecutors may use the criminal threats law to charge a defendant with domestic violence. A criminal threat is defined as threatening to harm someone and that person:
Reasonably fears for their safety
Received the communication in writing, verbally, or over an electronic device, and
Experienced a threat that was unambiguous and specific
You may be charged with a criminal threat even if you have no intention of carrying it out. This too is a wobbler under California law. A misdemeanor conviction carries a sentence of up to one year in county jail, while a felony conviction could mean up to four years in state prison.
Again, domestic abuse charges- whether falling under a wobbler, misdemeanor, or felony- can be confusing and always ensure harsh penalties in California. Our experienced Riverside assault lawyer, Graham D. Donath, has successfully argued to reduce felony charges to misdemeanors or have the assault charges dropped altogether. Call today to schedule your free consultation.
Domestic Violence Charges Don't Go Away
If you're facing one of these charges, you should know that they're rarely dropped or dismissed. Sometimes, an accuser may decide to withdraw their charges, but this action doesn't necessarily lead to dismissal. Even if an accuser wishes to drop charges, the decision whether to proceed with the case is at the discretion of the prosecution.
A district attorney's office or another prosecutor can still bring charges, even if the accuser is being uncooperative with the investigation. Since this action is not entirely uncommon in domestic abuse cases (as they, by definition, involve loved ones), prosecutors often decide to proceed with charges.
This highlights the need for anyone facing domestic abuse and violence charges to seek a Riverside attorney versed in domestic disputes and violence immediately. We can help you understand your rights and start your legal proceeding out on the best foot possible.
The Legal Process After a Riverside Domestic Violence Charge
If you're facing domestic abuse charges, it's time to act and mount your defense. While hiring a defense attorney is a key step, there are also some things you can do, which include:
Gathering Evidence
Your defense hinges on providing enough evidence that casts a reasonable doubt on the charges against you. Examples of gathering evidence might include:
Taking pictures of your hands if you're accused of hitting someone. A lack of bruising or swelling could show that you didn't strike.
Evidence that reduces your accuser's credibility, such as a state of intoxication during the incident. Gathering text messages and videos is also a good step.
Keep in mind, if you're arrested you might have a no-contact order with the accuser. These no-contact orders can be filed with a restraining order attorney.  Be sure to follow these terms closely. Do not approach your accuser under any circumstance.
Talking to Witnesses
If it's possible, get witnesses to attest to the incident as evidence. If someone saw a fight occur, can they say that the accused was not actually a victim of violence or threats? If so, take down their contact information and consider having them write a witness statement outlining their observations. Your Riverside defense attorney can provide you with further guidance.
Hiring a Riverside Domestic Violence Attorney
One of the most important aspects of your legal process will be hiring a criminal defense attorney in Riverside to represent your rights at court. When you were arrested, you were informed of your rights, which include the right to a public defender. While public defenders are attorneys who are committed to the rights of their clients, they're often overloaded with cases. Hiring a criminal defense law firm that can give your case the attention it deserves is advisable if you can afford it.
Graham Donath has only practiced defense law and is one of a few attorneys recognized as a Certified Specialist in Criminal Law by the California State Bar Board of Legal Specialization. Recently, Donath's domestic abuse client was charged with Spousal Battery resulting in a traumatic condition. The alleged victim suffered serious swelling and bruising to the face. Donath's client was found not guilty on all charges. 
Posting Bail
Bail for domestic abuse and violence cases are usually high – around $50,000. However, your attorney may be able to negotiate to a fraction of this by convincing a judge that you'll make it to all your court appearances. Alternatively, a judge may decide to release on you on your "own recognizance," which means you won't be required to post bail.
Attending the Arraignment
Shortly after being arrested, you'll attend your first hearing, which is called the arraignment. During this hearing, the judge will read the charges against you and you'll enter a plea of guilty, not guilty, or no contest. The judge may also set pretrial conditions and future court dates. It's essential to have a defense attorney's guidance while entering a plea and preparing for the trial ahead.
Going to Trial
If you entered a guilty plea or no-contest plea, a judge may provide sentencing at the arraignment. However, if you enter a not guilty plea, your case goes to trial. It's essential to follow your attorney's instructions during the pretrial and trial period.
Preparing Your Defense: Questions to Expect From Our Riverside Domestic Violence Lawyers
Our domestic violence defense attorneys will start mounting your defense by asking several questions:
Did the accuser fabricate the assault? False accusations occur more often that you might think. If the alleged victim is making up the abuse to gain leverage in a custody or divorce battle, this could form part of your defense. Keep in mind that emotional and psychological abuse are generally harder to prove than physical abuse.
Did you do it, or is there someone else in your household that could be responsible? If you have any documentation that could attest to this fact, remember to bring it with you.
Do you have any questions? It's essential that you understand your rights and the legal process that follows an arrest for a domestic dispute. We want to help you, which includes being informed at every step. If you do have any questions, make sure you ask us, so we can properly represent you.
Your Domestic Violence Attorney in Riverside
Domestic violence charges can be serious, and they rarely go away. If you're facing misdemeanor or felony charges involving domestic abuse or spousal or partner battery, it's essential to hire a Riverside domestic violence attorney as soon as possible. Graham Donath specializes in criminal defense law and serves clients in Orange County and the Inland Empire. He has successfully defended clients in both misdemeanor and felony trials and is committed to defending your rights under California law. For more information about his criminal defense services, please contact us.
Types of Domestic Abuse-Related 911 Calls in California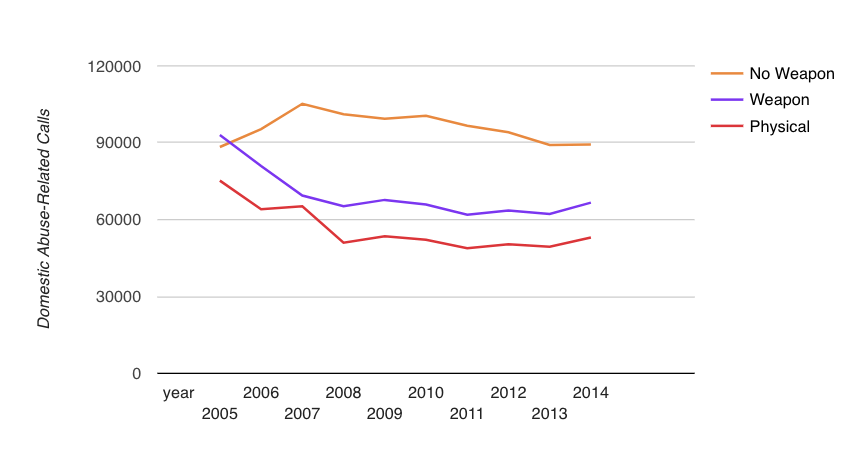 Domestic violence-related calls for assistance have relatively declined since 2005; in 2014, the most current year data is provided for, there were 155,965 calls related to domestic abuse. In the interactive graph above, physical means the caller reported hands, feet, etc as the type of weapon used against them. The data was pulled from the Office of the Attorney General.
"I got arrested after I was accused of domestic violence. I was referred to Mr. Donath by some attorney in court on my first court date and called him. Boy am I glad I did. A few months later and all criminal charges dismissed and all I had to do was pay a fine. I can't say enough about what a great and trustworthy lawyer he was." – Jeff W.