Riverside Firearm Crimes Defense Lawyer
Crimes involving firearms are among the most zealously prosecuted by the state of California. The state's strict gun laws regulate nearly everything to do with owning or possessing firearms, from a mandate on background checks needed just to buy a gun or ammunition to bans on guns for individuals perceived to be in a high-risk ownership group. If you are accused of a gun crime in California, you need to seek out assistance from a qualified and seasoned firearm crimes defense lawyer right away. 
California has some of the nation's harshest gun laws, underscoring the need for a competent firearms criminal defense attorney. Defendants in California charged with firearms-related offenses are bountiful, including misdemeanor or even felony charges depending on factors such as the type of crime, the intent of the defendant, and the defendant's previous criminal record.
Being convicted of a firearms offense in the state of California can come with several negative consequences, including and up to the loss of liberty if you are incarcerated in prison for the crime. Moreover, the state of California's Penal Code 12022.53 calls for enhanced sentencing under some circumstances. For these reasons and others, it is important to reach out for assistance from an experienced and knowledgeable firearm crimes defense lawyer if you are arrested or indicted on gun charges.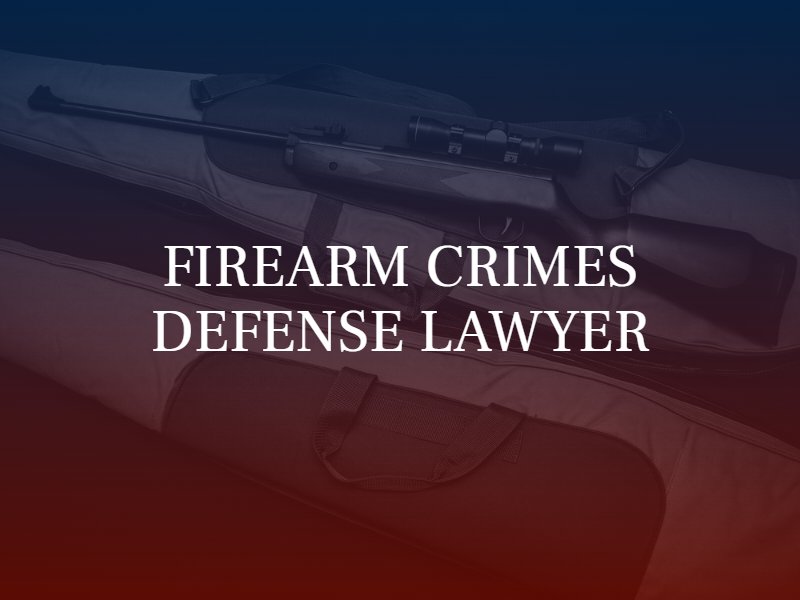 Why Hire Graham Donath to Fight Your Weapons Charge? 
Because the state of California takes gun crimes seriously, it is important that you hire the very best representation possible. Penalties that come along with a conviction for a gun crime can be quite severe, affecting not just your reputation but your liberty as well. Graham Donath has become known throughout the area for his unwavering support of his clients, no matter the offense. Attorney Donath:
Is an experienced firearm crimes defense lawyer who has helped clients with gun charges many times in the past. Mr. Donath has taken on thousands of criminal cases, including misdemeanor and felony cases and cases involving juvenile offenders. 

Previously worked as a Riverside County public defender. This experience helped Mr. Donath gain a unique perspective on the criminal courts and glean a deep understanding of the processes that defendants go through when facing charges like gun charges. 

Is recognized as a Certified Specialist in Criminal Law by the California State Bar Board of Legal Specialization. 

Holds membership with prestigious criminal justice and defense organizations, such as the Criminal Defense Panel of Riverside County and the National Association of Criminal Defense Lawyers. 

Is recognized as a top 100 southern California trial lawyer.
Riverside Firearms Defense Lawyer Quick Links
Why You Need an Attorney When Facing Weapons Charges in California
Although it is a cornerstone of our democracy, our criminal justice system has many, many flaws. Defendants in our country only get a fair shake if they are adequately represented in court by an attorney who is willing to believe in their right to adequate counsel. The Sixth Amendment to the Constitution of the United States goes beyond guaranteeing that persons accused of crimes have the right to an attorney. It also states that they have a right to adequate representation. Our caring and compassionate Riverside firearm crimes defense lawyer has the knowledge and experience to help you put forth your best possible case. 
Attorney Graham Donath has become synonymous with protecting the rights of clients accused of criminal activity. Our office knows just how important it is to analyze the facts in every criminal case and then devise effective strategies that provide our clients with the best chance at negating the penalties they're facing. Being accused of a gun crime can be difficult. Our team looks to help clients through this painful chapter in their lives by:
Being staunch advocates for our clients. Goal one is to preserve every client's freedom and liberty. 

Providing the best possible and most adequate counsel. We want you to understand your rights in the criminal courts and also realize the seriousness of what you are going up against. That is why we never sugarcoat any potential consequences—no matter how sobering the possibilities may be. 

Analyzing the evidence against you. Our top priorities include downplaying your actions and casting doubt on the charges you are facing. The prosecution must do its job to prove your guilt. 

Negotiating with the prosecuting attorney to reduce the charges against you or have them thrown out completely. 

Preparing all motions and filing all paperwork necessary. 

Standing up with you during court proceedings from start to finish of your case.
Who is Prohibited from Gun Ownership and Possession in California?
Firearms laws in the state of California predominantly seek to prevent certain people from owning weapons and to keep people from shooting or brandishing firearms, especially when it is reasonable to believe that someone might be harmed or killed as a result. People who cannot possess or own a gun in California include any person who: 
Has been convicted of, or has an outstanding warrant for, a felony under the laws of the United States

Is addicted to the use of any narcotic drug

Is ordered to not possess firearms as a condition of probation or other court order listed in Penal Code

Is subject to a temporary restraining order or an injunction issued pursuant to the Code of Civil Procedure

Is subject to a Gun Violence Restraining Order (GVRO)

Is found by a court to be a danger to himself, herself, or others because of a mental illness

Is found by a court to be mentally incompetent to stand trial is found by a court to be not guilty by reason of insanity or is adjudicated to be a mentally disordered sex offender

Has been discharged from the military under dishonorable conditions (federal)

Is an illegal alien (federal)

Has renounced his or her US Citizenship (federal)

Is a fugitive from justice.
This is not an exhaustive list of those who are prohibited from owning a firearm or gun in California. If you fall into one of these categories, seek counsel from an experienced firearm crimes defense lawyer immediately. 
Common Gun-related Offenses in California 
In California, gun-related offenses include:
Carrying a loaded firearm

. Penal Code 25850. In general, folks cannot carry a loaded firearm into a public place or in a public vehicle. 

Carrying a concealed firearm. Penal Code 25400. Guns must be unloaded prior to carrying them on one's person or transporting them in vehicles. Carrying a loaded gun near a government building or school can come with a penalty enhancement. 
Assault with a deadly weapon.

Penal Code 245. Whether or not the attempt was successful, assaulting someone with a gun or other firearm is illegal and constitutes assault with a deadly weapon. 

Drive-by shooting.

Penal Code 26100. Whether you fire the gun or drive the car involved in the drive-by shooting, you may be found guilty of violating Penal Code 26100 for shooting at a home, building, or vehicle, especially if the home, building, or vehicle is occupied. 

Brandishing a weapon

. Penal Code 417. Pointing a gun at someone or displaying it in a threatening way is known as brandishing a weapon. If someone is injured as a result, then charges are enhanced. 

Illegal firearm sales.

Penal Code 26500. Illegally obtaining a weapon or dealing guns without a license to do so is a violation of Penal Code 26500. 

Possession of an assault weapon.

Penal Code 30605. Possessing a banned weapon is a violation of this statute. Banned weapons may include machine guns, parts used to convert guns to machine guns, short-barreled rifles, and silencers. 
California's So-Called "Use a Gun and You're Done" Laws
In California, Penal Code 12022.53 is referred to as the "Use a Gun and You're Done" law. It is applicable to serious felony offenses, including murder, carjacking, robbery, kidnapping, and some other violent offenses. This sentencing enhancement is sometimes also called the 10-20-Life enhancement. 
Enhancements may include 10 additional years added to a sentence for convictions of a crime that involves a gun and up to 20 years for firing a gun during the commission of a crime. Up to 25 years may be added to a gun-related sentence if using the gun caused someone to become injured or die. 
These enhancement laws in the state of California are no longer mandatory, thanks to the 2019 passage of legislation that grants judges discretionary powers to remove enhancements in weapons cases. However, that is not to say that an enhancement will not be sought in any particular weapons case. In fact, judges can add up to 25 years to the sentence of a convicted person based solely on their opinion in the case. 
Misdemeanor and Felony Weapons Charges
In the state of California, weapons charges may be classified as misdemeanors or felonies. The defendant's criminal past, the circumstances surrounding the crime, and a few other factors are used by the prosecution when it decides how to charge defendants in weapons cases. Gun enhancement laws may affect charging criteria. In general:
Misdemeanor gun charges are punishable by up to $1,000 in fines and up to a year in jail. 

Felony weapons charges are punishable by one to 20 years in state prison. 

Enhancements may add up to 25 years to the sentence of a convicted person.
What Are Some Defenses for Firearm Charges in California?
Being charged with a firearm offense in the state of California is scary and can come with life-altering and very serious consequences. Because of the seriousness of gun crimes, it is critical that you fully understand your rights and know what to expect. A firearm crimes defense lawyer with experience handling cases where defendants are facing firearms offenses is your best option. 
Some of the most common strategies for defendants going up against gun charges include:
The defendant had no criminal intent when the offense occurred. It is up to the prosecution to show that you acted with criminal intent and that your actions were beyond a reasonable doubt. Failing that, then the charges against you hold no bearing. 

The accused was acting in self-defense. The defendant had reason to believe that they or another person were facing imminent harm and might perhaps die or suffer serious injuries.

The alleged perpetrator had no knowledge that the weapon was present. For instance, the defendant was driving a vehicle that he borrowed and did not know that there was a firearm in the console. 

The weapon was fired accidentally. It is possible that if you fired the gun in question accidentally, then a lack of knowledge may be argued, which speaks to your lack of intent to commit the gun offense. 

Police misconduct was in play. The firearm was a product of an unlawful search and seizure, or the gun was part of a scheme to entrap the defendant. 
Remember, with any criminal charge, the onus is on the prosecution to show that you are guilty beyond a reasonable doubt. It is the job of a great defense attorney to highlight any discrepancies or holes in the prosecution's narrative against you. If your case makes it to a jury trial, these discrepancies can give the jury members reason to doubt that you are guilty, and if they are unsure of your guilt, then the prosecution cannot obtain a conviction. 
These are just a few of the most common defenses for weapons charges in California. In some cases, a defense attorney may also negotiate with the prosecuting attorney in a weapons case to have the charges reduced based on the circumstances surrounding the events in question. It might also be the case that an attorney who understands California's gun laws may file a motion to suppress evidence that might have been collected illegally or outside the scope of the investigation. 
A gun crimes conviction—even at the misdemeanor level—can have lasting ramifications on both your personal and professional life. Being convicted of a weapons charge affects your reputation and the way that you are perceived by your family, the community, potential employers, and others. It is important to realize the seriousness of a conviction and to take all necessary steps to prevent it. Our office wants to help. 
The Law Offices of Graham Donath value your liberty and freedom, and we know how quickly a case can go from bad to worse with the wrong representation. Our Riverside firearm crimes defense lawyer will work diligently and tirelessly to help you get the best outcome in your weapons case, going above and beyond to minimize the penalties you're up against.  Request a confidential consultation or give us a call in Riverside at 951-667-5293 or Orange County at 714-758-5293 to get the ball rolling on your gun crimes defense strategy.