Penalties for Hiring Undocumented Workers
Posted in Criminal Defense on August 19, 2019
When you own or operate a business, it is important to follow both state and federal laws. The issue of undocumented workers has been a hot topic in the news across the US for the last few years. Though California law offers wide-ranging protections for the rights of undocumented workers, it is important for employers to understand that it is illegal to:
Hire undocumented immigrants
Recruit undocumented immigrants
Refer undocumented immigrants for work and receive a fee for doing so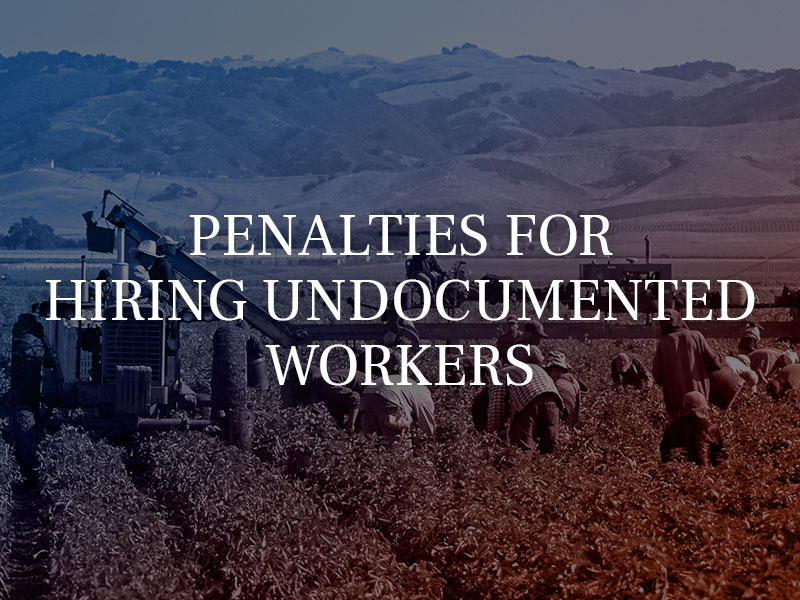 Penalties for Hiring Undocumented Workers
There are a range of both criminal and civil penalties associated with violating these laws. A business can also lose its license to operate.
Penalties are generally broken down as follows:
First offense: can be fined $250 – $2,000 per undocumented worker.
Second offense: can be fined $2,000 – $5,000 per undocumented worker.
Third or subsequent offense: can be fined $3,000 – $10,000 per undocumented workers. A pattern of knowingly hiring undocumented workers could lead to additional fines and jail time for an employer.
If an employer is known to be "harboring" undocumented immigrants or employing 10 or more undocumented immigrants in a single year, this could lead to 10 years of prison time.
Federal authorities could also use their broad powers under the Racketeer Influenced Corrupt Organization (RICO) Act for hiring undocumented workers.
How to avoid breaking the law
It can be difficult to know which workers are undocumented and which ones are legally allowed to work in the United States. Chances are, anyone applying for a job at your business will tell you they are legally allowed to work here.
Your first step is to use the E-Verify system for checking the status of all workers. This system is part of the Department of Homeland Security (DHS) website that allows businesses to verify a person's eligibility to work in the US.
Please note that California employers are NOT required to use the E-Verify system (there are some exceptions for employers who receive federal funding or are federal contractors). California employers who choose to use E-Verify may only do so to check the status of someone whom they are offering a job. They cannot use E-Verify to check the status of someone who is a current employee.
However, an employer is not required to check the authenticity of the documents provided to them by a worker (identification cards, social security numbers, etc.). In fact, employers could face discrimination lawsuits for rigorously checking documents of certain prospective workers based on their race or ethnicity.
How to Establish Employee Identity & Work Authorization
Documents used to establish employment identity and employment authorization can include:
A US passport
Resident alien card, alien registration card, other document designated by the US Attorney General
Social Security card
Driver's license or state identification card
What about independent contractors?
Many businesses in California, particularly those in the construction industry, use independent contractors (third-parties, not under the employ of their company). Businesses are not required to check the work status of third-party employees, though they could still be held liable if they know or have reason to suspect the independent contractor is not authorized to work in the US.
Seek legal assistance
If you have been accused of violating the law concerning hiring undocumented workers, you need to consider contacting a local criminal defense attorney. These are serious charges, and you want to ensure the best possible outcome for yourself and your business.