Can I Travel with CBD Oil?
Posted in Criminal Defense,Drug FAQ'S on September 17, 2019
There has been a rapid rise in the popularity of cannabidiol (CBD) oil in the United States. The product is sold in many retail locations and marketed to ease or solve many types of ailments. There are some FDA-approved medications that contain CBD oil, though most of the CBD products sold are not FDA-approved. It should be noted that medications are not the only products that use CBD oil. There are foods with CBD. There are CBD "bath bombs." There are even CBD infused drinks and candies.
There has been plenty of discussion about whether or not you can travel with CBD oil. After all, it is legal. However, it is derived from the cannabis plant, and not all states (or the federal government) have legalized cannabis. Though it is not psychoactive, there are still things you should know before you travel with your CBD products.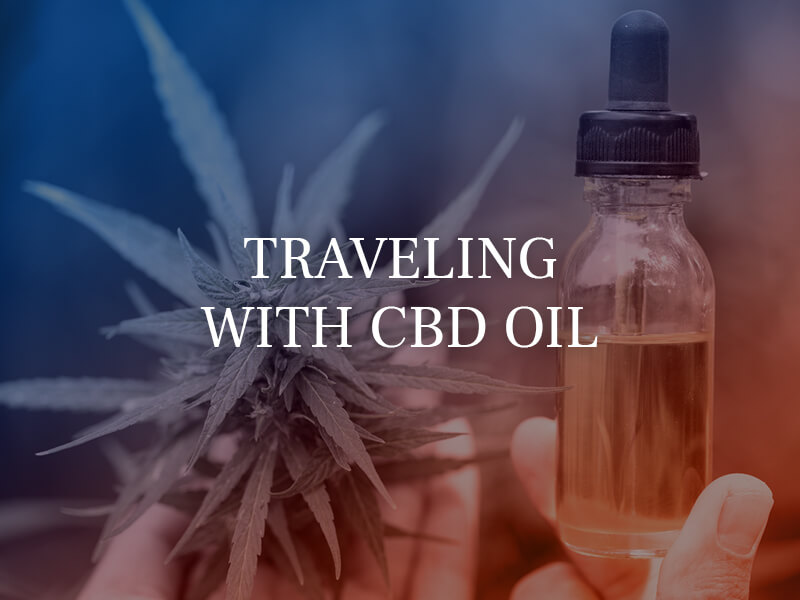 What has happened so far?
Earlier this year, there were stories of federal officers confiscating CBD oils and products at airports across the US. In some of those cases, passengers were jailed on felony drug possession charges for a single bottle of CBD oil. In Texas recently, a drug-sniffing dog showed interest in one passenger's backpack. Customs officers searched the man's pack and found an e-cigarette cartridge. The man said he bought it from a CBD shop in Dallas. A test of the product came back positive for THC.
Authorities also arrested a 71-year-old woman on felony drug charges after a vial of CBD was found in her bag. The woman used the oil for medicinal pain relief.
The new rules and regulations
The Transportation Security Administration (TSA) has updated its policies regarding travelers with medical marijuana. These policies say that it is completely legal to travel with hemp-derived CBD products or anything else that has been approved by the FDA. These products are allowed in both carry-on luggage and checked bags.
Some background on CBD
Many people use the terms cannabis, hemp, CBD, and marijuana interchangeably. However, they are actually different products. Cannabis is a plant that can be broken down into three main types:
Marijuana can be a member of either indica or sativa. However, hemp can only be derived from sativa. These plants look the same, but they have distinct properties. Both plants contain THC, the compound that produces intoxicating effects, and CBD, the non-intoxicating compound that is supposed to have various medical benefits.
Marijuana can have up to 40% THC
Hemp usually contains 0.3% or less or THC
The federal government has legalized hemp-derived CBD "containing no more than 0.3% THC and produced under certain regulations." This was legalized in the 2018 Farm Bill and amended the Controlled Substances Act. The only CBD oil containing more than 0.3% of THC that is legal are types approved by a doctor to treat epilepsy.
It is important to note that people can only travel with CBD oil that is legal at the federal level and contains less than the permitted amount of THC. Buying CBD at many of the places that sell the products may very well get passengers trying to get on a plane in trouble with law enforcement. Unless you are certain that your THC is 100% federally legal, save the purchase for when you reach your destination.