Crime Statistics in California
Posted in Statistics on December 16, 2019
No place is free of crime. While many people let the fear of crimes taking place scare them, it is important to understand statistics related to specific crimes. Understanding the overall crime rate as it related to the population as a whole is important.
Overall In California, the rate for many crimes decreased. Some of the highlights from the latest reporting released by the California Department of Justice, are discussed here.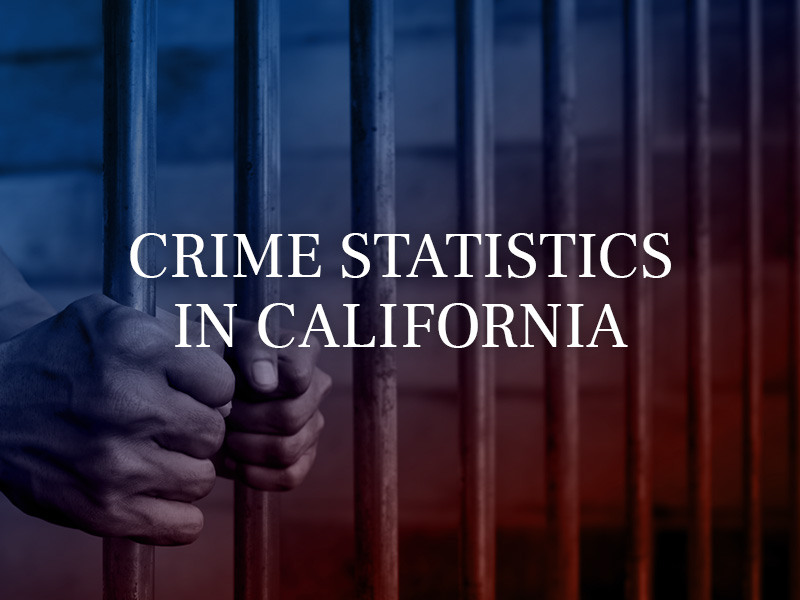 California Crime Statistics 2018
It is always good news when crime rates decrease. During the latest reporting year in California, the following statistics stand out (these rates are per 100,000 people in the population). From 2017 to 2018:
The rate of violent crimes decreased by 1.5%.
The rate of property crime decreased by 5.1%
The homicide rate decreased by 4.5% in 2018, from 142.9 to 136.4.
The rate of motor vehicle theft decreased by 8.3% from 424.9 to 389.6.
The rates of both burglary and larceny-theft charges decreased by 7.3% and 3.7%, respectively.
A decrease in these statistics is certainly a good sign. However, we want to point out that many serious crimes are reported each year. In 2018, we know that there were:
1,739 homicides
15,500 rape cases
54,312 robberies
105,315 aggravated assaults
Concerning property crimes, we know that there were:
164,540 burglaries
155,170 motor vehicle thefts
621,288 total larcenies or thefts
8,523 arsons
In 2018, there was a total of 1,091,694 people arrested in California. Out of those arrests, 1,045,271 were adults, and 46,423 were juveniles. Broken down, there were:
302,514 felony arrests
784,245 misdemeanor arrests
As expected, areas with a higher population density have higher rates of crime. The counties with the most reported violent crimes include:
Los Angeles
San Diego
Alameda
San Bernardino
Sacramento
San Francisco
Riverside
Orange
San Joaquin
Santa Clara
Just because a county has more violent crimes reported does not necessarily mean that the "rate" of crime is higher.
Crime rate trends in California
Violent crimes are usually on everyone's mind when they think about crime statistics. In California, the rates of violent crimes remain near historic lows. Statewide, the rates are comparable to levels seen in the 1960s.
From 1960 to 1980, the state's violent crime rates rose dramatically. During that period, the violent crime rate rose approximately 280%.
Property crime rates in California peaked in 1980, but they have trended downward ever since. Overall, California ranks around the middle of the pack when compared to other states in the US concerning property crime rates.
What about domestic violence?
In 2018, there were 166,890 calls for assistance on domestic violence calls in California. Many of those (76,707) involved some sort of weapon (firearm, knife, other dangerous weapon). Domestic violence laws make it a crime to harm or threaten to harm an intimate partner. California Penal Code 243(e)(1) calls these "domestic battery" charges.
What if you are charged with a crime?
If you have been charged with a crime in California, you need to secure assistance from a skilled criminal defense attorney as soon as possible. Both misdemeanors and felonies can have serious consequences if a defendant is found guilty. A defense attorney will investigate all aspects of your case and work to build a defense. The goal will be to get the charges against you reduced or dismissed altogether. The Law Offices of Graham Donath