Sentence Modification: Process, Requirements & Limitations
Posted in Criminal Defense,General FAQ'S,Sentencing on February 27, 2020
Going through the criminal court process is intimidating in confusing. Once a person is sentenced to a specific period or is already serving their time, they may wonder if there are any ways to reduce their sentence. Under certain circumstances, sentence modifications are possible under California law. Sentence modifications often involve:
modifying a jail or prison sentence
petitions for writ of habeas corpus
modifying conditions of probation
Modification is separate from an appeal
A modification request is different from an appeal. A modification begins with a request to the court that originally issued the sentencing order. An appeal is a request to a higher court to review the decision of the lower court. An appeal will not retry a case, examine any new evidence, or accept testimony from witnesses.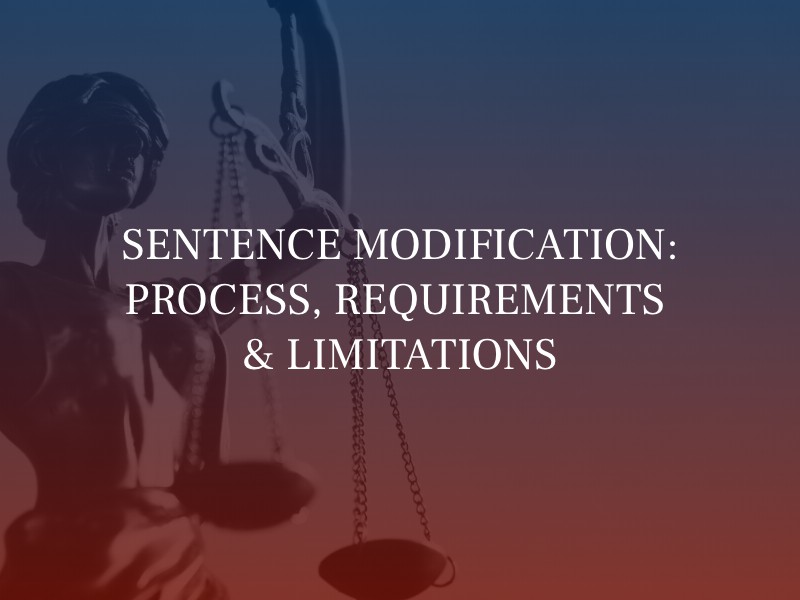 On what grounds can a sentence be modified?
There are certain circumstances in which the court will decide to change a sentence.  Sentence modifications will most likely be granted if:
there was a clerical error in which the clerk entered the wrong jail/prison term
the imposed sentence was illegal under California law
the court committed a judicial error (for example, a judge made an error in weighing evidence admitted during sentencing)
There are also times when California law changes and makes certain provisions retroactive, meaning they apply to defendants who were sentenced prior to the law taking effect. If this happens, a person who is already serving time may be able to apply for a modification to their sentence. For example, in 2012, California made changes to the state's "Three Strikes Law," and in 2016, there were changes to laws regarding marijuana. Both of these changes saw resentencing for some people convicted under previous laws.
Sentences that cannot be modified
In general, if there were no clerical errors made by the court and the imposed sentence was legal under California law, the court will not allow for a modification of the sentence. In cases where a person believes they should have received less time, but all of the proper legal processes have been followed, they may have to appeal their decision to a higher court in order to receive a reduced sentence. If California law changes and allows for retroactive sentence modifications, they may then be eligible to petition for modification.
Any incarcerated person can file a petition for sentence modification, regardless of whether they were sentenced for a misdemeanor or a felony. The judge can deny the petition, change the sentence, postpone the sentence, or revoke the sentence.
Schedule a free consultation of your case
If you or somebody you care about has been convicted of a crime and sentenced in California, but you wish to have that sentence modified, you need to speak to a skilled California sentence modification attorney as soon as possible. Most individuals do not have the resources or experience necessary to get through the modification process without help.
At the Law Offices of Graham Donath, APC, our team thoroughly understands California criminal law, and we know what it takes to get a modification to a sentence. We will thoroughly assess your case in order to determine whether or not you may be entitled to a modification. If we do not think you are eligible for a modification, we will still help guide you towards the best path for a successful resolution to what you are going through. You can contact us for a consultation on your case by clicking here or by calling as soon as possible.