How Many Points is a DUI in California?
Posted in Criminal Defense,DUI on October 8, 2019
California uses a point system to track driving violations against drivers across the state. Understanding how this point system works and how a DUI affects it is important.
How Does the Point System Work?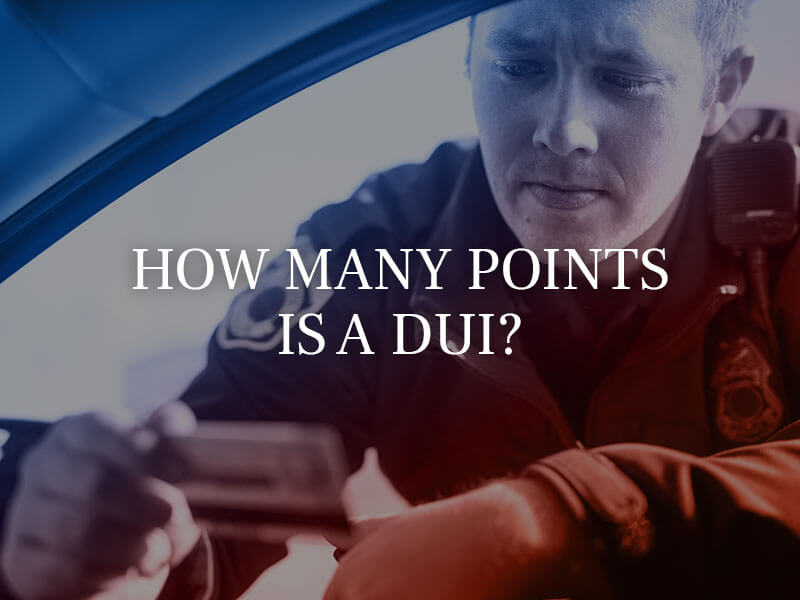 In order to track the riskiest drivers and get them off the roadways, California set up a point system in which there are various values (points) assigned to different types of moving violations. Once a driver has accumulated too many points in a certain time frame, the DMV will automatically suspend their license. The driver will not be able to drive until their license is reinstated.
How many points it takes for a license to be suspended depends on the time frame. These are the thresholds over a period of three years:
4 points in 1 year
6 points in 2 years
8 points in 3 years
If a driver hits any of these thresholds, they will lose their license. Most violations cost a driver one point against their license. For example, the following are all worth one point:
Speeding
Running a stop sign
Accidents if you caused them
However, there are some violations that count for two points due to their severity. Some of these offenses are:
Driving under the influence
Hit-and-run
"Wet reckless" offense
A wet reckless offense refers to reckless driving that is related to drinking. These charges are often assigned as part of a plea deal for someone as a step down from a full DUI offense. However, the points remain at two for this offense.
Can You Remove Points?
There are ways to get points removed from your license. The California DMV allows you to remove some points by attending traffic school. This class, focused on defensive driving, is in place to reduce the risk of future moving violations or accidents. It could be online or in the classroom. However, this class will not remove two points a person receives from a DUI conviction. It will remove them for other traffic infractions and can reduce the risk of having a driver's license suspended.
DUI suspension
Even if you do not have enough points for a license suspension, or if you take the traffic class to reduce points, you could still lose your license in the aftermath of a DUI. All DUIs in the state of California carry some level of license suspension as a form of punishment. The length of the suspension varies and can change depending on what happens with your case.
Drunk driving accident statistics
According to the California Office of Traffic Safety, there were 1,120 people killed and over 26,000 people injured due to alcohol-impaired driving crashes during the latest reporting year. Survivors of these crashes often suffer from serious injuries that impact their ability to work and live their daily lives. The DUI punishments, as well as the point system, are in place as deterrents against drinking and driving. Please remember to be responsible if you are out drinking. Call a cab or open your phone and use a ridesharing service. If you are charged with drunk driving, contat a Riverside DUI attorney as soon as possible to start working on your defense.