Riverside Elder Abuse Lawyer
Elder abuse is a serious crime. If you've recently been charged with abuse of an elderly individual, you may be worried about your future, especially if you feel the allegations are untrue. Elderly abuse is a complex and multi-faceted crime – Riverside elder abuse lawyer, Graham Donath can help you understand the charges and possible defenses may ease your confusion and help you prepare for what comes next.
Quick Answers:
Why Choose the Law Offices of Graham Donath?
When you need an attorney to defend against allegations of elderly abuse, you need to be sure you seek help from someone with the knowledge and experience necessary to handle every aspect of your case. Graham Donath is ready to get to work on your case. You can be sure that Graham Donath understands the complexities of elderly and nursing home abuse cases.
Donath was named a Distinguished Scholar at Claremont McKenna College and gained his law degree from the University of California, Hastings College of the Law.
Graham Donath has worked as a Deputy Public Defender in Riverside County and was also named the Misdemeanor Trial Attorney of the Year.
Donath was named one of the Top 100 Trial Attorneys in Southern California by the National Trial Lawyers Organization.
Graham Donath will not hand your case off to "associates" or paralegals. You are getting someone who will be dedicated to your needs.
You want an attorney who is trusted by their clients. When you look through the client testimonials for Graham Donath, you will see that he will tenaciously represent you in all aspects of your case. One client says, "All in all, I honestly could not not be happier with the quality of work I received from Graham during this entire ordeal. I feel the price paid was extremely reasonable given the VERY high quality of my representation."
Do You Need an Attorney?
An experienced attorney in elder law and nursing home abuse is absolutely necessary for these cases. If you are charged with or accused of abusing and elderly individual, the attorneys from the Law Offices of Graham Donath will examine all of the evidence against you. They will then conduct their own investigation into what happened. This includes:
Examining all of the charges to see if they line up with the evidence.
Interviewing the police officers who investigated the case originally.
Speaking to the alleged victim and/or their family members.
Handle all communication between you and prosecutors.
Formulate the best defense strategy possible based on the facts of the case.
Work to get your charges reduced or dismissed completely.
Cases Won By Graham Donath
It is helpful to look at some of the cases won by Graham Donath. His tireless work on behalf of clients is seen in this sampling of cases:
People v. T.B. – A client charged with making terroristic threats as well as making harassing phone calls after allegedly threatening to kill his ex-wife's boyfriend. The case was dismissed when Mr. Donath showed there was a violation of his speedy trial rights.
People v. M.E. – This client was charged with possession of methamphetamine. Officers executed the search warrant on an alleged drug house and claimed to have seen the client throw a white baggie over his shoulder. The client was the only one in the house at the time, but Mr. Donath managed to get the client off with no conviction at all.
People v C.A. – A client was charged with spousal battery resulting in a traumatic condition, resisting arrest, and child endangerment. The alleged victim, in this case, suffered a bloody nose and claimed the client punched her him the face. Mr. Donath vigorously defending this client and they were found no guilty of all charges.
What Is Elder Abuse? California Penal Code 368 PC
Penal Code 368 classifies elder abuse as any kind of harm inflicted on someone aged 65 or older. Abuse is much more complex than just hitting someone – in fact, elder abuse can occur in any of the following contexts:
The law defines neglect as willfully endangering an elder's well-being by failing to act or provide care. Neglect might rise to the level of physical abuse when it causes actual harm in an elder. A common example is the development of bedsores from improper attention. Though the sores occur from neglect, their presence does physical harm.
Physical abuse occurs when someone inflicts physical harm to an elder without any just cause. Though there's no "just" cause to hurt an elderly person, the law distinguishes between intent to harm and the incidental harms someone can cause by moving a fragile individual.
Emotional abuse occurs when a senior experiences mental distress through false imprisonment, isolation, or mockery. Again, if the emotional abuse escalates to such a degree that the senior causes self-harm, the courts may see it as physical abuse in addition to emotional.
Financial abuse involves taking advantage of a senior for financial gain. Examples include coercing an elder to amend a will or deed, cashing Social Security checks for personal use, or charging personal expenses to an elder's room in a nursing home.
Elder abuse can be a misdemeanor or a felony, which makes it a "wobbler crime" – it can wobble between the two depending on the situation. The prosecution may label it as either, depending on the nature and gravity of the offense, as well as a defendant's prior criminal history.
Misdemeanor offenses are punishable by fines and/or up to one year in jail. Felony offenses may result in a punishment of up to 4 years in a state prison.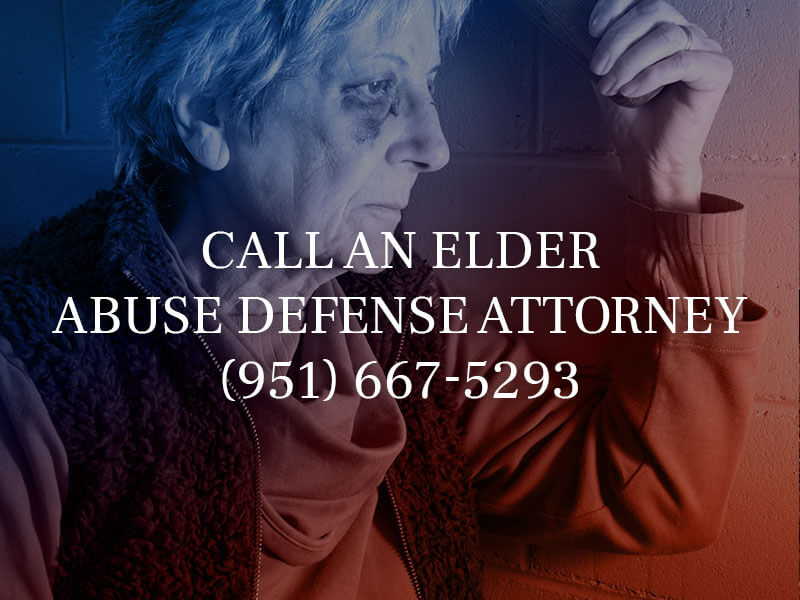 Possible Charges and Penalties
There are various crimes associated with elder abuse in California. Many of these crimes can be classified as either misdemeanor or felony offenses (known as wobblers). These charges and their associated penalties can include:
Murder (Penal Code 187)

Death
Life without possibility of parole
25 years to life

Rape (Penal Code 261)

State prison 3, 6, or 8 years

Lewd or lascivious acts (Penal Code 288(a);(b)(2);(c)(2))

Felony – state prison 5, 8, or 10 years and $10,000 fine
State prison 1, 2, or 3 years
1 year in county jail

Sexual penetration (Penal Code 289)

State prison 3, 6, or 8 years

Causing or permitting the infliction of physical or mental suffering of an elderly dependent under circumstances likely to produce great bodily harm (Penal Code 368(b)(1)(2)(3))

One year county jail and $6,000 fine or 2, 3, or 4 years state prison
If victim suffers great bodily harm – then additional state prison time of three years if victim is under 70 or five years of victim is 70 or older
If defendant causes death of the victim – then additional state prison time of five years if victim is under 70 or seven years if victim is 70 or older

Causing or permitting the infliction of physical or mental suffering of an elderly dependent under circumstances not likely to produce great bodily harm (Penal Code 368(c))

Misdemeanor charge with possible jail time

Violations of law proscribing theft or embezzlement (not a caretaker) (Penal Code 368(d))

When value of property taken is greater than $950 – one year county jail and a $1,000 fine or state prison 2, 3, or 4 years
When value of property taken is less than $950 – one year county jail and a $1,000 fine.

Violations of law proscribing theft or embezzlement (caretaker) (Penal Code 368(e))

Same as violations of a non-caretaker

Willfully threatening to commit a crime which will result in great bodily harm (Penal Code 422)

County jail not to exceed one year or state prison

Violations related to operation or maintenance of long-term healthcare facilities (Penal Code 1290(c))

Misdemeanor – fine of $2,500 and a 180 day county jail term

Failing to report abuse (for those mandated to do so) (Penal Code 15630)

Failure to report misdemeanor – six months county jail and a $1,000 fine
Failure to report felony where death or great bodily harm has occurred – one year county jail and a $5,000 fine
Many of these crimes will also require a person to be on supervised release after leaving jail or prison (probation). Crimes of rape, sexual penetration, and lewd and lascivious acts will likely require a person to register as a sex offender upon conviction.
I Have Been Charged With Elder Abuse. Now What?
If you have been charged with elder abuse, elder neglect or any related elder crimes, exercise your right to remain silent. The prosecution or arresting officers may try to twist any words you say to use them against you in court. Never speak about the case unless you are in the presence of a Riverside assault defense attorney, and never sign any written statements without his or her blessing.
You likely have a complex relationship with the alleged victim if you have been charged with violations of elderly abuse, so facing these sorts of charges can be an emotional experience. It is impossible for us to tell you exactly how we would defend your case because each one has a unique set of circumstances. However, there are some general tactics our abuse lawyers in Riverside and the Inland Empire, employ in an effort to get your charges reduced or dismissed:
Insufficient evidence. In a criminal proceeding, the burden of proof rests on the prosecution. To successfully achieve a conviction for elder abuse, a district attorney must prove beyond a reasonable doubt that:

You willfully committed the alleged acts or allowed someone else to do so.
You knew the victim was over the age of 65.
Your behavior caused or may have caused an imminent threat to the health, life, or welfare of the victim.
If all three of these elements do not exist, you cannot be found guilty of abusing the elderly. If, for example, an injury was the result of an accident, the act of abuse did not occur.
False accusations- Sometimes, jealousy and resentment can cause people to lash out. Maybe an elder promised you a large sum of money and a jealous family member took matters into his or her own hands. In most states, there is no crime for reporting abuse, even if the allegations prove to be unfounded. In another scenario, perhaps someone reported abuse with honest intentions, but the injuries an elder sustained were simply not the consequence of abuse.
The Presumption of Innocence- In any criminal proceeding, you start with a presumption of innocence. This means the prosecution must prove beyond a reasonable doubt that the allegations against you are true. This also means a prosecuting attorney must provide evidence that you willfully committed the act or allowed someone else to do so. There are many avenues of defense in these situations, and a skilled defense attorney can discuss your best options.
Mistaken identity- There are times when a person is accused of elder abuse but they did not actually do anything at all – someone else did. Due to certain medical conditions or memory lapses, an elderly victim of abuse may not properly identify the person who committed the abuse. To be convicted of elder abuse, there must be proof beyond a reasonable doubt that you committed the crime and not someone else.
The injury was the result of an accident- Everyone makes mistakes. Those who are caretakers and non-caretaker of an elderly person are not immune from making mistakes that could cause serious harm to an elderly person. To be found guilty of elder abuse, a prosecutor needs to prove that your willful actions caused an elderly person to become injured.
The abuse was an isolated incident- Caring for an elderly loved one is an incredibly stressful experience. While there is no excuse for abuse, there are times when these actions are triggered by an emotional breakdown. This could be helpful when working to get the charges reduced or dismissed.
Nonetheless, an experienced attorney can help you evaluate and build up a strong qualified case.
What Do I Do After Being Charged With Elder Abuse?
If you've been charged with elder abuse, the most important thing you can do is to remain silent. Do not sign any statements or answer any questions until your elder abuse attorney or nursing home abuse attorneys arrive. Many people speak out because they feel they've done nothing wrong, only to have the police or a prosecutor interpret what they've said in a way they didn't intend or expect.
Employing the Right Riverside Elder Abuse Attorney
If you are facing elder abuse charges, the most important thing you can do is to hire the right legal representation. Prosecuting attorneys pursue these types of cases very doggedly. You need a Riverside elder abuse lawyer willing to fight back and protect your rights. At the Law Offices of Graham D. Donath, APC we will work to defend you with our years of expertise and knowledge. For a free initial consultation, contact our office today for more information.