Riverside Gang Crimes Attorneys
Gang-related crimes have been on the decline in California, but they are still a serious problem in the state. Just as worrisome, however, is the racial profiling and wrongful arrests that result in the prosecution of innocents. Prosecutors in the state take gang-related crimes seriously and help put hardened criminals behind bars, but they also make mistakes. At the Law Offices of Graham Donath, APC, our Riverside gang crimes lawyers we protect people from unfair prosecution for gang-related crimes.
What Is a Gang?
In legal cases, gangs are considered groups with three or more members that use names or symbols for identification, engage in criminal activities outlined in the STEP Act, and have members who work alone or together to conduct criminal activities. These activities may include murder, drive-by shootings, and drug offenses.
Consequences of a Gang Crime Conviction
If you are convicted of a gang crime, you could face the stigma that may prevent you from obtaining gainful employment. You may be required to register as a gang member, spend time in prison, and follow a strict probationary period. Being labeled a gang member may also, unfairly, make you a target for other criminal charges.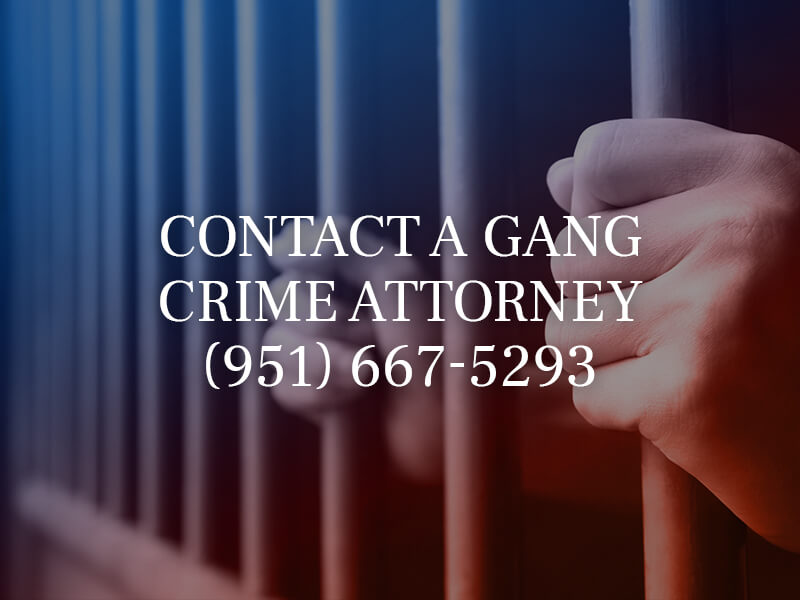 Types of Gang-Related Crimes
Our team of experienced Riverside gang crimes lawyers helps individuals facing gang crimes, including:
Active gang participation
Failure to register as a gang member
Recruiting gang participants
Enhancement charges for felonies committed on behalf of a gang
Gang enhancement charges allow prosecutors to target any individuals who commit crimes for the benefit of gangs in the state with increased penalties for the crime, whether the individual is a member or not. Juveniles associated with gangs or who commit crimes for gang members may also be subject to enhancement charges under California law. If you have been charged with a gang crime in the past we encourage you to speak with our Riverside expungement lawyer.
Developing a Defense Strategy
In many cases, we have proved that individuals being prosecuted are not active gang members at all. If they are not active gang members, they cannot be held responsible for gang-related criminal acts such as failure to register or recruitment. In cases where our defendants have faced enhanced charges for felonies, we start our defense strategy by strategically breaking down the prosecution's case against the underlying criminal charge.
Sometimes, prosecutors file gang-enhancement charges with no valid reason for doing so. Our Riverside gang crimes attorneys evaluate all aspects of gang crimes cases so we can develop a strong, multifaceted defense strategy.
Prosecution of Street Gang Crimes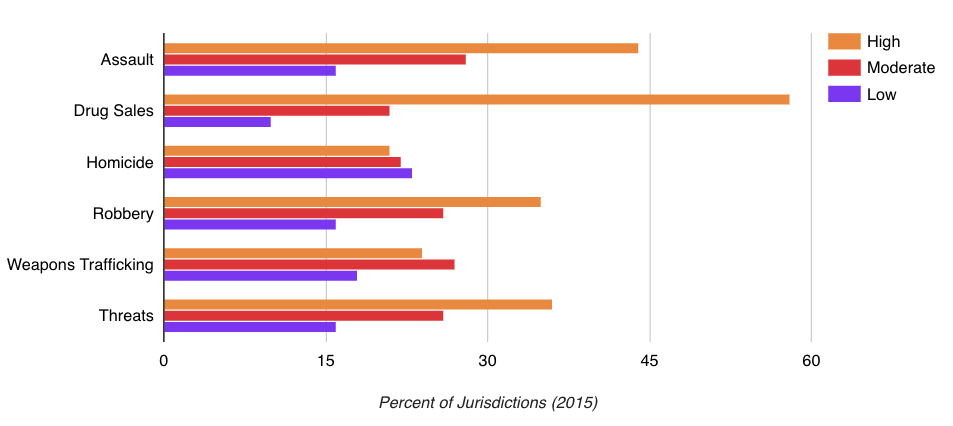 The FBI and National Alliance of Gang Investigators' Alliance surveyed jurisdictions asking to indicate the level of street gang involvement in various criminal activities. The choices were high, moderate and low.
The Riverside County Gang Task Force is committed to tracking gangs prosecuting gang members to the fullest extent of the law. Whether it be gang crimes relating to drug sales and distribution, threats or murder, an experienced Riverside gang crimes lawyer like Graham D. Donath can help protect your rights and work to keep you out jail.
Hiring a Gang Crimes Defense Attorney in Riverside
If you are being charged with a gang-related crime, you need a defense attorney familiar with the gang laws of California as well as the court system. Because the state takes such an aggressive approach to gang prosecution, we must also work aggressively to protect our clients' rights and have charges dropped or reduced. At the Law Offices of Graham Donath, APC, you will find a Riverside gang crimes attorney you can trust to obtain the best possible outcome in your case.
Attorney Donath is one of only a handful of individuals who is state certified for criminal defense. He has a history of working on cases in southern California and understands what it takes to fight gang-related charges successfully. We can show you our track record of success and help you make informed decisions regarding your case at every step.
The laws surrounding gang crimes in California are complex, and you may be fighting multiple charges at once. Invest in the type of help you can count on to protect your rights against any criminal allegations. If you have been charged with a gang-related crime, one of the only ways to protect your future is to hire a criminal defense attorney who you know will work to protect your future. Contact our Riverside gang crimes lawyers today to get started.