Riverside Expungement Attorney
Having a criminal record can follow you around for years and have a negative impact on social life, career path, and even your family. With internet records, it's easier than ever for people to look up criminal records online, which means it can follow you from city to city and state to state. People who don't know you may not give you the opportunity to explain your prior criminal conviction or its misrepresentations.
How an Expungement Lawyer Can Help
California law gives you the right to petition the courts to dismiss prior convictions in the event you successfully completed probation (or it was terminated). This is a process called expungement, and it could be your ticket to a fresh start in life. A Riverside expungement attorney can help restore your name by expunging past arrests and convictions.
Generally, an expungement clears your arrest record and subsequent court proceedings related to the specific crime from the public record. Perhaps most importantly, it also allows you to legally deny any criminal history when applying for jobs. Graham Donath is a Certified Specialist in Criminal Defense under the California State Bar and can help clear your past criminal record as your Riverside expungement lawyer.
Quick Answers: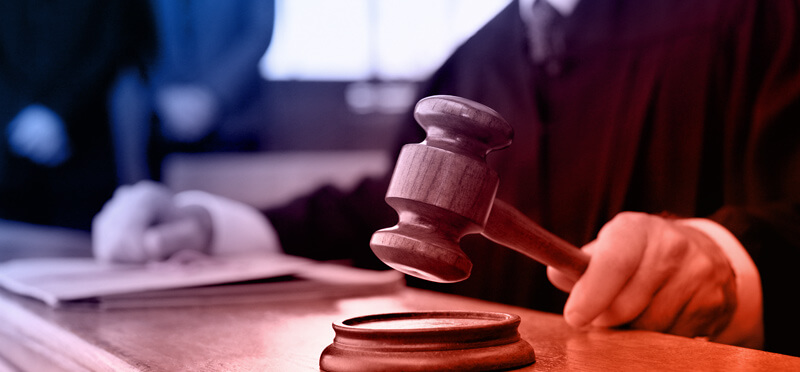 The California Expungement Process
The expungement process in California is not easy, and it requires a lot of steps. However, as long as you did not violate the terms of your probation or commit any new crimes, you may be successful in filing a petition to expunge your record. When your record is expunged, you are no longer required to disclose any convictions on job applications and background checks with private employers. In some professions, such as those requiring a professional licensing board or government agency, you may still have to disclose any prior convictions.
The length of the expungement process depends on the gravity of the offense; our Riverside expungements attorney can walk you through the proper steps for based on your criminal convictions during a free consultation.
How Do You Get a Misdemeanor Off Your Record/ Expunged? 
Expungements for misdemeanor offenses take 4 to 6 weeks from the filing of the application. Before filing an application, you'll need to find your court records and provide information about the court location, charges, and dates of offenses. The more prepared you are with these records, the quicker your process will be.
Can You Get a Felony Expunged in Riverside? 
There are two types of processes regarding felonies: total expungements or reductions to misdemeanors. Most felony expungements take 6 to 8 weeks to process. While some felonies cannot be expunged, they may be reduced to misdemeanors. A Riverside expungement attorney will be able to tell you which felonies can be expunged and which can only be reduced to misdemeanor charges.
For example, a conviction for a felony murder cannot be expunged. However, murder attorneys in Riverside assert the only way to get a murder conviction removed from your record is to be granted a pardon by the governor or to have the conviction overturned on a writ of habeas corpus.
Sealing Juvenile Records through Expungement in California
Juvenile records can be especially damaging and likely do not reflect your adult character. Sealing juvenile records is a process that takes 4 to 6 weeks.
Eligibility for Expungement in Riverside
You may be eligible for expungement of an infraction, misdemeanor, or a felony if:
You have fulfilled the obligations of sentencing, including probation, rehabilitation, and community service.
You do not have another criminal case pending against you and are not serving a sentence for additional convictions.
Those convicted of sex offenses involving children are not eligible for expungement. In some cases, those who have violated probation but otherwise match the criteria for expungement may still be able to secure expungement.
Why Expunge My Record?
If you've been denied employment numerous times, you might be feeling defeated. Rather than settling for a job beneath your talents, consider an expungement instead. This will give you the start you need to better yourself in a rewarding career. A record expungement will also help you form new relationships and protect your family members from vitriol.
Many people seek expungement so they can simply close a dark chapter in their lives. It can be a powerful tool for moving forward toward a brighter future. For this reason, it's well worth the time and cost involved.
Other Types of Conviction Relief
In addition to expungement, Californians may also petition for other types of criminal record protection, including:
Having an arrest record sealed or destroyed. For arrests that did not end in convictions, individuals may request to have a record sealed or destroyed. The process goes above and beyond the normal bounds of the case to ensure an arrest record cannot be used against an individual later.
Certificate of Rehabilitation (CR). Such a certificate sometimes can relieve individuals from sex offender registration and may help individuals secure employment and professional licensing. It does not remove or seal your record, but it provides formal recognition that the conviction is in the past. Unlike expungements, a Certificate of Rehabilitation is filed in your current county of residence as opposed to the court of conviction. If the CR is granted, it becomes an application for a pardon by the CA Governor.
A state governor's pardon may go beyond the relief of other types of expungement and fully restore an individual's rights as a law-abiding citizen, including the right to bear arms and serve on a jury in the future. Many people who obtain a certificate of rehabilitation or an expungement also move for a pardon. A pardon does not destroy or seal a record.
All these types of conviction relief allow individuals to get back to their lives and put a criminal past behind them both personally and professionally. They will not, however, prevent a previous conviction from affecting sentencing in subsequent criminal cases.
Expungement Attorneys in Riverside
If you or a loved one is suffering from a past mistake that led to a conviction, there are options available. You do not have to live with the stigma of a convicted criminal for the remainder of your life. Expungement and other forms of conviction relief require extra work, but it is worth it to get your freedom and your life back once and for all.
At the Law Offices of Graham D. Donath, APC, your Riverside expungement lawyers, we have the specialization and the experience needed to secure successful outcomes in expungement cases. We can help you start over after a criminal conviction. Your past does not have to hold you back. Every case is different, and you may be eligible for one or more of the options listed here. For more information about your conviction relief options, call us today.