Riverside Vandalism Attorney
In California, you may need to speak with a Riverside vandalism attorney more times than you think you would. When you think of vandalism, you generally picture kids painting graffiti on city walls. In reality, the California laws governing vandalism (also known as "malicious mischief") are much more involved. You may be charged with vandalism in ways you have not previously imagined.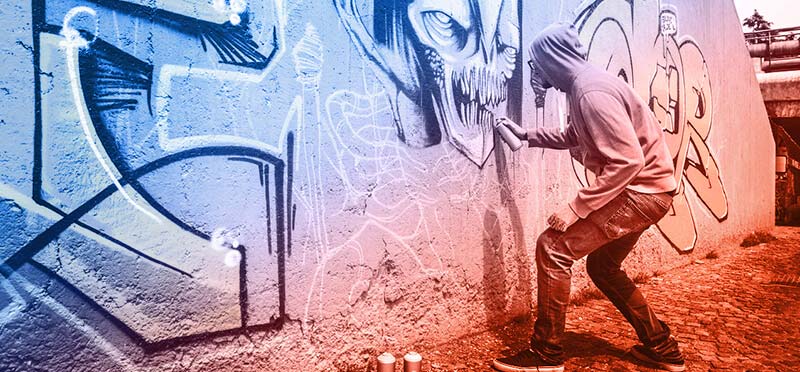 Types of Vandalism Charges
You are in a fight with your spouse. In a moment of frustration, you break a picture, dish, or other items you jointly own.
You deface a car with paint, keys, or another means.
In a moment of spontaneity, you write your name in a tree at a public park or in wet cement on someone else's property.
While these "crimes" seem relatively innocuous, vandalism in the state of California may be charged as a serious crime, resulting in jail time or hefty fines. The way the action is charged can vary greatly, depending on your history and the circumstances surrounding the event.
Circumstances Surround the Crime:
If the crime causes damage valued at $400 dollars or less, it can only be charged as a misdemeanor. These charges carry a maximum penalty of one year in jail and up to $1,000 in fines.
When the damage is valued at $400 dollars or more, the crime is classified as what the State of California calls a "wobbler." This means it may be charged as a felony or a misdemeanor depending on your individual circumstances. A tough judge or prosecutor may decide to pursue felony charges at his or her discretion. This type of conviction carries a sentence of 1-3 years in jail and up to $10,000 in fines – or more if the damage is extensive.
Based on these specifics, it is easy to see how a childish mistake can lead to long-term consequences. In fact, Justin Bieber was charged with misdemeanor vandalism in 2014 and was forced to pay over $80,000 in restitution.
If you are accused of vandalism, speak to an expert Riverside defense lawyer as soon as possible to prepare a skilled defense.
Elements that Affect Your Charges
To be charged with vandalism, the arresting officers and prosecution must prove that the three following elements apply to the crime:
You damaged or destroyed property, or you maliciously defaced or inscribed something.
You were not the sole owner of the property, or that it belonged to someone else.
The damage or destruction cost money.
Vandalism Defenses
The way a district attorney's office decides to pursue a vandalism charge can fluctuate significantly from case to case. It will consider the extent of the damage as well as your individual history when crafting a case. The way our Riverside vandalism lawyers defend your case will also depend on these factors. However, there are a few angles we can try to pursue:
Accidental damage: The California Penal Code stipulates that you must maliciously deface property to be charged with vandalism. If you unintentionally caused damage, then no malicious intent was present, and you may not be charged.
False allegations: Think back to our broken dish example. If you are involved in a domestic dispute, your partner may craft false allegations against you out of resentment. Our Riverside vandalism attorneys may use this to get your case dismissed.
Mistaken identity: In some cases, you may simply be in the wrong place at the wrong time. You may match the description of the person who committed the vandalism but did not commit the act. 
In California, if you are given a sentence of probation in a misdemeanor or felony vandalism case, you may expunge your criminal record. After you successfully complete the probationary period, contact a Riverside expungements lawyer.
Consulting the Best Riverside Vandalism Lawyers
If you have been charged with vandalism, it is important that you choose the right local criminal defense team. You should obtain counsel as quickly as you can. At the Law Offices of Graham Donath, we will work tirelessly to give you the best outcome possible. Using your individual circumstances and history, we will create a defense with the aim of reducing your sentence or getting the charges dismissed. Contact our Riverside Vandalism attorneys when you are ready to take action.