Riverside Vandalism Attorney
In California, you may need to speak with a Riverside vandalism attorney more times than you think you would. When you think of vandalism, you generally picture kids painting graffiti on city walls. In reality, the California laws governing vandalism (also known as "malicious mischief") are much more involved. You may be charged with vandalism in ways you have not previously imagined.
Types of Vandalism Charges
You are in a fight with your spouse. In a moment of frustration, you break a picture, dish, or other items you jointly own.
You deface a car with paint, keys, or another means.
In a moment of spontaneity, you write your name in a tree at a public park or in wet cement on someone else's property.
While these "crimes" seem relatively innocuous, vandalism in the state of California may be charged as a serious crime, resulting in jail time or hefty fines. The way the action is charged can vary greatly, depending on your history and the circumstances surrounding the event.
Circumstances Surround the Crime:
If the crime causes damage valued at $400 dollars or less, it can only be charged as a misdemeanor. These charges carry a maximum penalty of one year in jail and up to $1,000 in fines.
When the damage is valued at $400 dollars or more, the crime is classified as what the State of California calls a "wobbler." This means it may be charged as a felony or a misdemeanor depending on your individual circumstances. A tough judge or prosecutor may decide to pursue felony charges at his or her discretion. This type of conviction carries a sentence of 1-3 years in jail and up to $10,000 in fines – or more if the damage is extensive.
Based on these specifics, it is easy to see how a childish mistake can lead to long-term consequences. In fact, Justin Bieber was charged with misdemeanor vandalism in 2014 and was forced to pay over $80,000 in restitution.
If you are accused of vandalism, speak to an expert Riverside defense lawyer as soon as possible to prepare a skilled defense.
Elements that Affect Your Charges
To be charged with vandalism, the arresting officers and prosecution must prove that the three following elements apply to the crime:
You damaged or destroyed property, or you maliciously defaced or inscribed something.
You were not the sole owner of the property, or that it belonged to someone else.
The damage or destruction cost money.
Vandalism Defenses
The way a district attorney's office decides to pursue a vandalism charge can fluctuate significantly from case to case. It will consider the extent of the damage as well as your individual history when crafting a case. The way our Riverside vandalism lawyers defend your case will also depend on these factors. However, there are a few angles we can try to pursue:
Accidental damage: The California Penal Code stipulates that you must maliciously deface property to be charged with vandalism. If you unintentionally caused damage, then no malicious intent was present, and you may not be charged.
False allegations: Think back to our broken dish example. If you are involved in a domestic dispute, your partner may craft false allegations against you out of resentment. Our Riverside vandalism attorneys may use this to get your case dismissed.
Mistaken identity: In some cases, you may simply be in the wrong place at the wrong time. You may match the description of the person who committed the vandalism but did not commit the act. 
In California, if you are given a sentence of probation in a misdemeanor or felony vandalism case, you may expunge your criminal record. After you successfully complete the probationary period, contact a Riverside expungement lawyer.
Why Choose Graham Donath?
Graham Donath is a skilled attorney who has worked extensively on criminal defense cases. When determining who you want representing you for your Riverside vandalism charges, you need to secure an attorney who has a track record of success. For these cases, you need to look no further than what Graham Donath's clients say about their experience. While not all of these testimonials come from vandalism cases, they are all clients Graham Donath has defended against criminal charges.
"At trial Graham was extremely well prepared and immediately went to work on systematically tearing apart the DA's case and winning over the jury." – Client
"Graham handled all aspects of my case personally (as opposed to many firms who have "associates" handle your case and plea you out at first chance)." – Tel
"The service was unparrallel to any other I have experienced. He took care of everything and I never had to miss a day of work!" – Client
"I am a licensed professional and was facing a misdemeanor conviction. This would have pretty much destroyed my future. I talked to at least 20 lawyers before I had the fortune of speaking with Mr. Donath. Not a single one stood out. Only he did. Very smart and confident." – Client
Graham Donath has experience defending those charged with a wide variety of crimes, including vandalism. You are putting your case in skilled and knowledgeable hands when you choose Graham Donath.
Actual case results
People vs J.M. – A client was charged with spousal battery resulting in a traumatic condition. The victim suffered swelling and bruising to the face and testified against the client in a trial. The client was found not guilty on all charges.
People vs J.B. – A client was charged with being under the influence of a controlled substance. Officers made contact with the client outside his home. They noted the client's erratic behavior and tests determined he was under the influence of a controlled substance. The case was dismissed with to illegal search and seizure.
People vs T.B. – A client was charged with making terroristic threats and harassing phone calls, accused of threatening to kill his ex-wife's boyfriend. The case was dismissed due to a violation of the client's right to a speedy trial.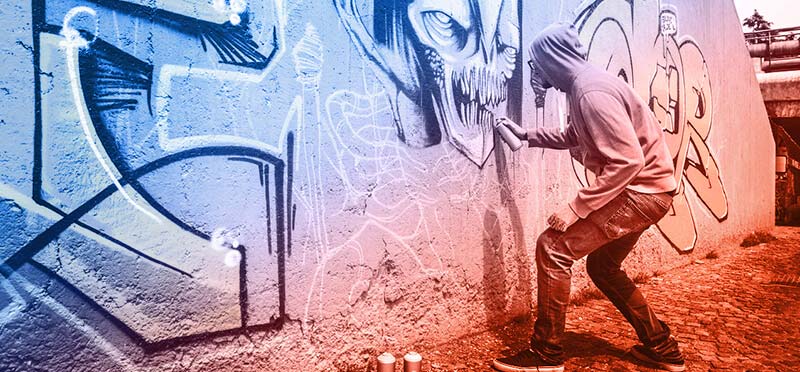 Vandalism Penalties in California
Penalties for vandalism in Riverside follow those specified in California state law. The charges for vandalism range from misdemeanors to felonies, and the penalties vary depending on the value of the property damage.
Damage of $10,000 or more:

punishable with a fine of up to $50,000
by both a fine and imprisonment in a county jail or prison for up to a year

Damage of $400-$10,000:

punishable by up to one year in jail or prison, or
a fine of up to $10,000

Damage of less than $400 where the accused has a prior vandalism conviction:

punishable by up to one year in county jail
fine of up to $5,000
or both a fine and jail time

Damage of less than $400:

punishable by up to one year in county jail
a fine of up to $1,000
or both a fine and jail time
Any conviction for vandalism could include an order for the accused and his parents/guardians (when the defendant is a minor) to clean, repair, or replace the damaged property. They could also be responsible for keeping the property and other specified property in the community free of graffiti for up to one year.
Enhanced Penalties
There are some cases of vandalism in which enhanced penalties can be applied and due to the seriousness of the crime. The following circumstances may result in enhanced penalties for vandalism in Riverside:
The vandalism occurred to a building owned or occupied by a religious institution. This includes churches, mosques, temples, synagogues, and cemeteries. This could result in a misdemeanor conviction end up to one year in county jail or a felony conviction with imprisonment up to three years.
The vandalism was shown to have been hate crime committed with the purpose of intimidating or deterring another person from their free exercise of religious beliefs. This could result in a felony conviction with imprisonment for up to three years.
The vandalism was done for a criminal street gang. This could result in an imprisonment for an additional 2, 3, or 4 years.
The vandalism was committed using butyric acid or other noxious or caustic chemicals. This could result in a misdemeanor charge with up to six months in jail or a felony conviction with a sentence of 16 months to three years imprisonment.
California Vandalism Laws: Graffiti Materials
There is more than one way for a person to receive a charge related to vandalism. A person does not actually have to commit vandalism in order to be charged with possessing graffiti materials. In addition to the charges listed above, California law bans the following:
Selling, giving, or providing graffiti materials to a minor. This can include etching cream or aerosol containers of paint.
The possession or purchase of etching creams or aerosol containers with paint by a minor.
Openly carrying etching cream or aerosol containers with paint in public areas without authorization.
The possession of masonry or glass drill bits, carbide drill bits, grinding stones, glass cutters, chisels, carbide scribes, aerosol paint cans, felt tip markers, or other substances intended to commit vandalism/graffiti.
A violation of the prohibition of graffiti materials will result in a misdemeanor charge. Anyone found guilty violating graffiti materials laws is also subject to the community service in graffiti cleanup activities mentioned above with the vandalism penalties.
Contact a Riverside Vandalism Lawyer | Graham D. Donath
If you or someone you care about has been charged with vandalism, you need to seek legal assistance today. Even if a charge seems like no big deal, please understand that criminal convictions will end up on your criminal history report. Vandalism, even relatively "minor" graffiti charges, can hinder a person's ability to get a job, go to school, and find housing. If you are a parent or guardian of a minor who is facing vandalism charges, please understand that you could face serious consequences as well. It is in both your child's and your best interest to secure skilled legal help.
Graham Donath wants to help you get through this situation. He will assess the situation and conduct a thorough investigation into the evidence against you. The goal in these situations is to get the charges reduced or dismissed altogether.
When you need a Riverside vandalism attorney, you can contact Graham Donath for a free consultation of your case by clicking here or calling 951-667-5293. Do not let the fate of your case remain in the hands of an overworked public defender. Let an experienced attorney handle your case so you can get back to living your life.